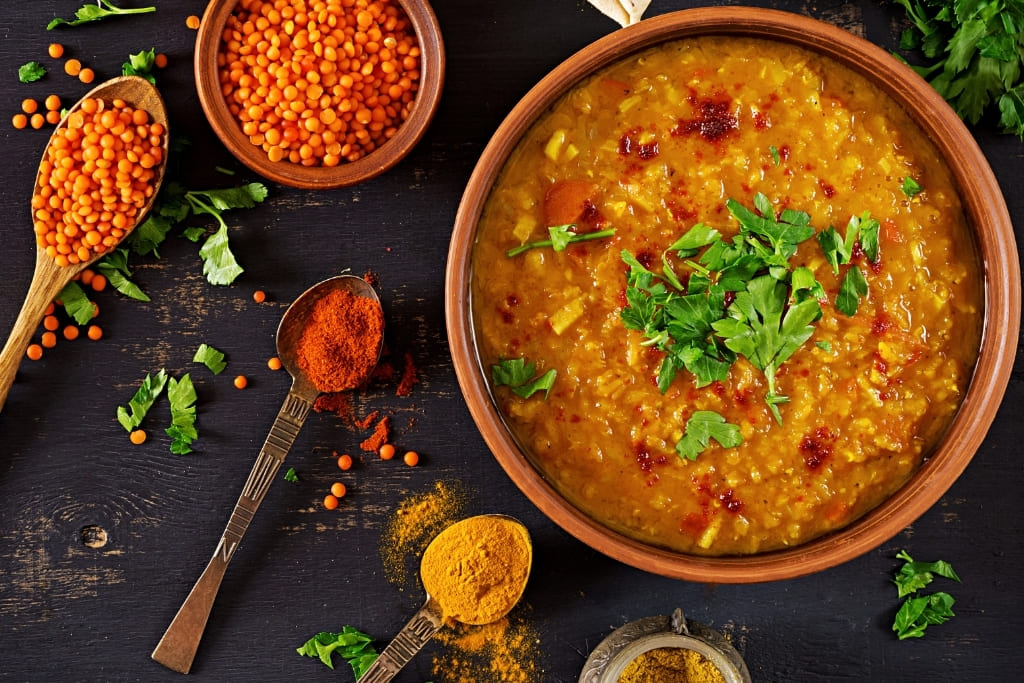 This diet plan is specially designed for the vegetarians. As GM Diet involves meat or chicken after fourth day so it is not an option for vegetarians. The benefits of the diet remain same for both vegetarians and non vegetarians. But remember to have the foods which have same amount of iron and proteins as beef or meat has.
Alternatives for chicken or beef in vegetarian GM diet:
One of the best options to keep the content of carbohydrates, proteins and iron in balance is the brown rice. You can also have cottage cheese. There are few vegetarian recipes which have the equal nutritional value as in beef which helps you to maintain the required level of iron and proteins in your diet.
Broken Wheat Upma Recipe:
This recipe is not a bad option for breakfast as it has high fibre because of wheat. Also it has very less calories, so it is a good choice to start your day in a tasty and healthy manner.
Ingredients:
Half cup broken wheat
Mustard seeds (1/4 tbsp)
Green chillies (chopped ½ tbsp)
2 Onions (chopped)
Ginger (1/2 tbsp)
Green peas (1/4 cup)
Carrots (chopped ¼ cup)
Two tbsp Coriander (chopped)
Salt to taste
Procedure:
Wash the broken wheat
Boil in hot water and drain it after boiling
Put in pressure cooker with oil and add some mustard seeds
Add green chillies after the crackling sound and sauté it
Add onions and ginger, mix it well and flame for 2 minutes
Mix broken wheat and add half cup water and pressure cook for two whistles
After the steam evaporates, garnish it with coriander and serve
Oats Recipe:
Another dish to change your taste buds is oats. It takes few minutes to prepare this recipe and with ease too.
Ingredients:
Half cup oats
One hand half tbsp lemon juice (for taste)
Turmeric powder (1/8 tbsp)
One cup water
Salt to taste
For Tempering:
You may add peanuts, fried grams, urad daal, channa daal, mustard seeds, curry leaves and any other ingredient to add extra crunch and taste to it.
Procedure:
Soak the Bengal gram for 15-20 minutes
Dry roast the oats in a pre heated pan for 1-2 minutes
Add oil and the tempering ingredients but remember not to put the peanuts
Put Bengal gram and turmeric
Fry till the gram turns light brown
Now add peanuts
Add water and boil
Put oats and stir continuously
Cook for 2-3 minutes and put lemon juice
Add salt to taste and serve hot
Porridge Recipe:
It is again a healthy dish for breakfast with optimum nutritional value.
Ingredients:
Half cup jowar
One cup mixed vegetables (chopped)
Mustard seeds
Chopped onions and tomatoes (2 tbsp)
Chopped coriander (2 tbsp)
One cup Curd (low fat)
One tbsp oil
Salt to taste
Procedure:
Make the coarse jowar powder
Add salt and water (3 cups) and pressure cook for 3-4 whistles
Put mustard seeds in oil in the pre heated pan
After the crackling sound, put vegetables and sauté for 4-5 minutes
Add the jowar mixture with 1-2 cups water and cook it for 7-8 minutes
Garnish with onions, tomatoes and coriander
It is now ready to be served with curd
GM Diet Wonder veggies Soup:
Soup is the soul companion of GM Diet and is the integral part of the diet. This can be consumed on any day of the diet and in unlimited quantities. Also it is easy to make and prepare.
Ingredients:
Two onions (chopped)
One tomato
Cabbage
Green peppers (chopped)
Celery
2-3 cups water
Procedure:
Put onions and green peppers and sauté them till they turn light brown
Add celery, tomatoes and cabbage in large pot of water
Boil it and cook till its tender, for about 60 minutes
Salt and pepper to taste