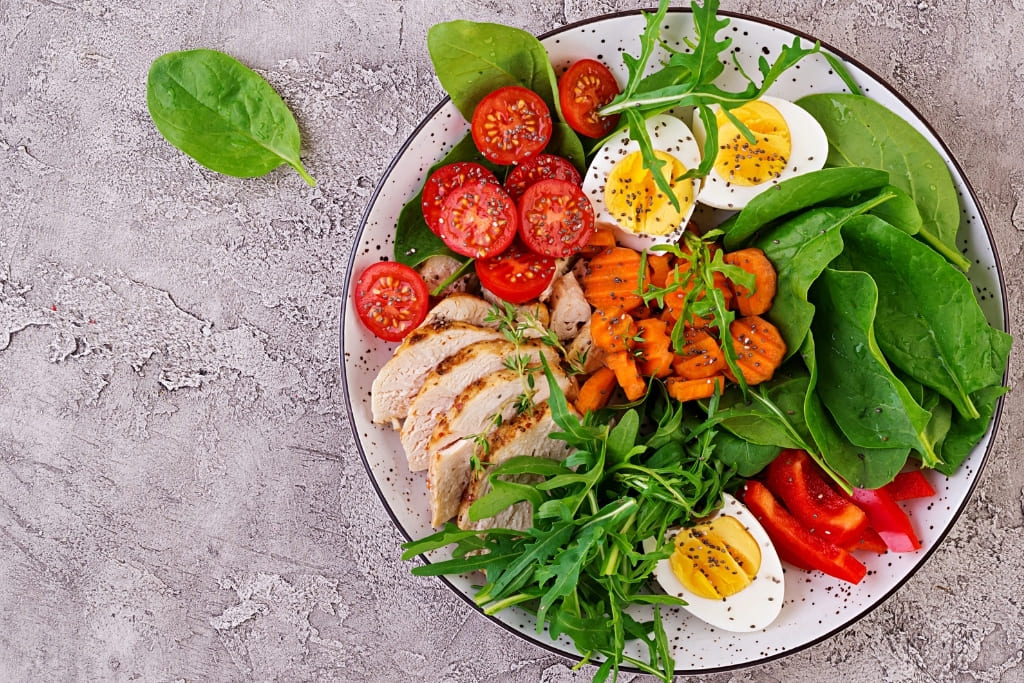 The GM diet (Indian version) has now gained popularity in India. As Indian people are more into vegetarian food and the phase has begun when more and more people in India are getting aware of keeping themselves healthy and fit. Women are more inclined towards the GM Diet plan as it helps to lose weight quickly and avoid obesity and other health related problems. The diet is little insensitive for the inexperienced people but at the same time it is beneficial and competent too.
Assorted Sprouts and Corn Chat:
Assorted Sprouts and Corn is one of the favourite foods of Indians as it is tasty as well as healthy which help them to lose weight also. GM Diet plan for Indians may include this recipe as part of their diet.
Ingredients:
One or one and half cup mixed sprouts (boiled), can take moong, matki, chana, etc.
Half cup boiled sweet corn kernels (makai ke dane)
One fourth chopped tomatoes, onions and coriander (dhania)
Chaat masala
Sweet chutney or honey
Lemon juice
For Garnish:
Put nylon sev, papdis (crushed) and finely chopped coriander. Also add salt to taste.
Procedure:
Put all the ingredients together and mix it well.
Garnish it and serve immediately after preparation.
Moong Daal and Channa Daal Kosambari Recipe:
India is known for its flavours and that is why GM Diet has huge number of followers in India. It has been modified according to the different zones and regions of the world. Indians prefer chicken instead of beef or meat or are completely vegetarian, so the diet is made by keeping all these things in mind so that they can follow the diet easily.
Ingredients:
One-fourth cup of channa and yellow split moong daal (soaked for 3 hours before use)
One or two medium sized carrots (grated) and cucumber (chopped)
Coriander and lemon juice
Green chillies and ginger (chopped)
Salt and pepper to taste
Procedure:
Put all the ingredients in a bowl and add salt, pepper and other seasonings to taste
Cool the recipe in refrigerator and then it is ready to be served
Moong Dal sprouts with Ripe fruit Recipe:
This recipe is again very healthy during the diet and people in India relish it too. There are many options in fruits like mangoes, apples, pineapple, grapes, raisins, strawberries, cherries, cantaloupe and pears. This will definitely help you to shed off your extra kilos during the diet.
Ingredients:
One cup ripe fruits (small pieces) of your choice
One cup raw moong sprouts (soaked overnight)
One cucumber and two green chillies
One tbsp cilantro (finely chopped)
Salt to taste
Procedure:
Drain the water from the daal which was soaked overnight and put the daal in wet muslin cloth
In a day or two, you can see the growth of daal
Now, it is ready and can put all the ingredients together
Mix them all and is ready to be served
GM Diet Non-Vegetarian
GM Diet is not only about eating fruits and vegetables but also has non-vegetarian recipes to make your diet tastier. This is one of the false impressions about the diet and this may be a turning off point for non vegetarians. Though beef is an important ingredient of the GM Diet, people in India refrain to beef and prefer chicken in their diet. GM Diet also considers chicken as a substitute of beef or meat but remember to have chicken only on day 5 and day 6. Also while cooking, do not use the skin of the chicken. Many tasty recipes can be made with chicken and are easy to cook also.
The non-vegetarian diet is designed as following:
Day one of the diet focuses only on fruits except bananas. You can have as many fruits on the first day. Watermelons should be consumed on day one as it helps you to lose weight quickly.
Day two of the diet is all about having vegetables, raw or cooked as per choice. Carbohydrates is also the part of the diet so potatoes can be taken in breakfast.
On the third day of diet both fruits and vegetables must be consumed. You can have fruits and vegetables of your choice but bananas and potatoes should be avoided.
Day four is about only milk and bananas; you can have 8 bananas and 3 glasses of milk in the whole day. A partial quantity of vegetable soup may be pooled with the diet.
On the fifth day of the diet fish, chicken or beef with tomatoes can be consumed. To maintain the uric acid levels in your body produced in last four days, more and more water should be taken.
Day six gives you the liberty to eat any quantity of fish, chicken or beef and you may consume vegetables along with it.
On the last day of the diet brown rice, vegetables and fruit juices can be served as your meals for the whole day.
GM Diet for non vegetarians includes a variety of recipes:
Chicken Salad Recipe:
This recipe is not only healthy but also a tasty recipe to enjoy. Also the vegetables in the salad make the recipe more nutritious. You may add lemon juice and honey to give it a tangy taste.
Ingredients:
Half cup cooked or residual chicken(diced)
One celery (chopped)
One onion (chopped)
Half red bell pepper (Diced)
One lettuce leaf (chopped)
Seasoning:
It can be done according to your taste buds. You may add mayonnaise, honey, lemon juice, etc but in limited quantity. Also, add salt and pepper to taste.
Procedure:
Put all the items in a bowl
Then add the prepared seasoning to it
Now add vegetable salad prepared as per your choice
Put salt, pepper and chillies according to your taste buds
Chicken Kebab Recipe:
This recipe is again for non vegetarians. It is same as vegetarian diet except the foods as it has non veg foods such as chicken, meat, eggs, etc.
Ingredients:
250 gms chicken breasts
one tbsp olive oil
Two yellow bell peppers
Two green bell peppers
Two onions and red tomatoes (cut into halves)
Salt and pepper to taste
Procedure:
Put chicken pieces together with bell peppers, onions and tomatoes on barbeque sticks
Add olive oil, salt, and pepper and cook it well until it becomes white and tender
Garnish with cucumber and serve
Grilled Chicken Kebab Recipe:
You need 500 gms of skinless chicken for this recipe as skin of the chicken has more fat and it can never become part of this diet.
Ingredients:
250 gms of skinless chicken
One tbsp olive oil
Two yellow and green bell peppers
Two onions and tomatoes
Salt and pepper to taste
Procedure:
Use barbeque sticks to skew the chicken pieces with bell peppers, onions and tomatoes.
Put olive oil, salt, and pepper on it.
Cook it well on a grill or oven or can put it on fire in case the microwave is not available.
Garnish it with cucumber and serve well.
GM Diet Chicken Soup Recipe:
As GM diet for non vegetarians is redesigned by keeping in mind that Indians prefer chicken over beef but if one doesn't relish roasted chicken then one can go for chicken soup recipe. But remember to take this soup only on 5th and 6th day of the diet.
Ingredients:
500 gms skinless chicken
200 gms tomatoes (chopped)
Celery (one stalk)
One medium onion and garlic (crushed)
One medium carrot (sliced)
Two tbsp olive oil
Salt, Pepper, and mixed herbs to add some taste to the soup
Procedure:
Shallow fry the veggies like onion, garlic and carrot until they get tender
Put chicken pieces and blend for 3-4 minutes
Add tomatoes and enough water
Let the soup boil for 30 minutes and serve hot and tasty soup
Grilled Beef or Chicken Slices
This is also a very relishing recipe for non-vegetarians but can be replaced by paneer for vegetarians.
Ingredients:
One cup Chicken or Beef tenderloin Strips
One lemon zest and coriander
Salt and pepper to taste
Procedure:
Keep the chicken in lemon zest
Put salt, pepper and coriander in it
Let the mixture rest for 10 minutes
Cook it well on a hot grill until it becomes golden brown
The slice is ready to be served
Serve with sliced tomatoes
Add salt and pepper to taste